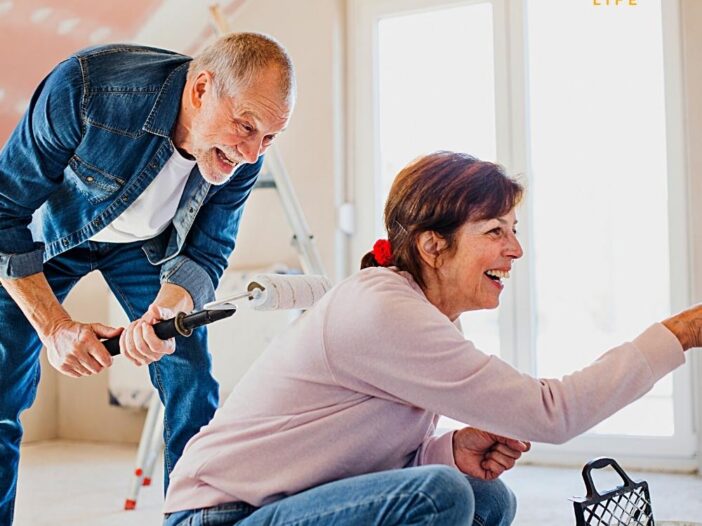 One of the freedoms of retirement is getting to choose where to live
What makes a good place to retire? It's one of the most crucial questions you need to ask yourself when you're planning your retirement lifestyle, and one that, surprisingly, many people don't give a great deal of thought to.
Location, location, location
If there was one perfect spot that fitted the needs of every retiree, there wouldn't be any need for the numerous property programmes extolling the virtues of moving to the countryside or being based in a city. Freed from the obligations of where you work, where the kids are at school, or the necessity of a feasible commute, the UK is your retirement property oyster.
Leaving major urban areas
The latest data from the ONS (Office for National Statistics) (1) has shown that people of retirement age in England are leaving major urban areas and settling elsewhere. The coronavirus pandemic has only increased this trend, with families joining in the rush to leave the city behind.
"Research by Rightmove compared people phoning or emailing estate agents about homes for sale during two weeks in mid-June 2020 with the first two-weeks in March 2020 before lockdown, finding agents experienced a 32% increase in enquiries, with people typically wanting family homes of three or four bedrooms and being prepared to pay 98% of the asking price."
Retirement Migration Hotspots
So, where are the Retirement Migration Hotspots, that these newly-migrating families may not want to live in, but those over 65 do? Rural communities in Dorset, Shropshire and Wiltshire are most likely to see an increase in the number of people aged over 65 moving in. No real surprises there, as it follows an existing trend of older people wanting to live by the coast or in areas of outstanding natural beauty.
Overall, retirees are leaving the city behind, with 87% of major urban areas experiencing net departures of those aged 65 years and over, as of June 2019, especially London, Birmingham, Bristol and Manchester. Some of this interest, and the corresponding rise in house prices, is no doubt fuelled by the current stamp duty holiday.
A new nest egg?
A homeowner aged over 65 choosing to sell at the average property price in Outer London of £424,200 could receive a nest egg for their retirement if they were to buy the average property in Dorset for just £324,707.
'Townsizing' – where someone frees up funds by buying a new property outside the city – does not necessarily mean lower prices, however. Again, it depends where you want to buy. Most retirees take a longer view that just making money on the sale, and want to choose a location that suits their retirement lifestyle, as well as their income.
Living the dream
Whatever your dream retirement looks like, moving home is a big move, so make sure the dream and reality match up.
You may have lived all your life in the city, but want a slower pace of life in retirement.
You may have always wanted to live by the sea, or where the nearest neighbour is a walk away, not across the fence.
You might want to be where there are less crowds and more cows, less coronavirus and more sense of community.
You might want to move for the sake of your health, for more fresh air or a more accessible home with less stairs.
Moving home can usually fund your new property purchase, but it's robust retirement planning that'll help you live your retirement lifestyle once you've made the move.
Pros and cons of day-to-day living
If many different locations appeal to you, now is the time to get out and see them. Start straight away, and visit the places on your own and then narrow down your choices to three or fewer. Spend a few weeks if possible in each location to carefully weigh the pros and cons of day-to-day living. A location that looks marvellous in May could be deserted in December, or freezing in February. If you have the funds, investing in a second home in your preferred location during your working years can offer a pre-retirement trial period to test out the area.
Family and friends
One of the major goals for retirement is 'more time to see family and friends'. If that's important to you, your new home needs to have room for them to stay (or be close by), be easily accessible, and preferably have something for the grandchildren to do, if applicable.
Forever home or first of a few?
Many people view the house they retire to as their 'forever' house. The truth is, it probably won't be, as you might want to move again, downsize, or need to move to a more accessible home as age gradually reduces your mobility. So, your retirement planning should account for changes of location or home within your chosen location later on in retirement.
Funding the retirement home AND lifestyle
House prices fluctuate and despite the dire predictions of some experts last year, house prices have risen considerably post lockdown, as The Guardian reported:
"Halifax said almost £22,000 had been added to the average house price since May 2020, when the UK experienced the first easing of national lockdown restrictions, and the gradual reopening of the housing market after a temporary freeze. It marks a 9.5% annual increase, the fastest rate of growth in seven years. The report echoes similar findings from a survey by Nationwide last week, which showed prices rising 10.9% year on year, the fastest rate since August 2014."
So, you need to carefully consider:
where you want to move to
how you will pay for the move
how you will fund your lifestyle in retirement
Make you first move by calling us
Call us at Panthera LIFE for a review of your plans for retirement, wherever that may be.