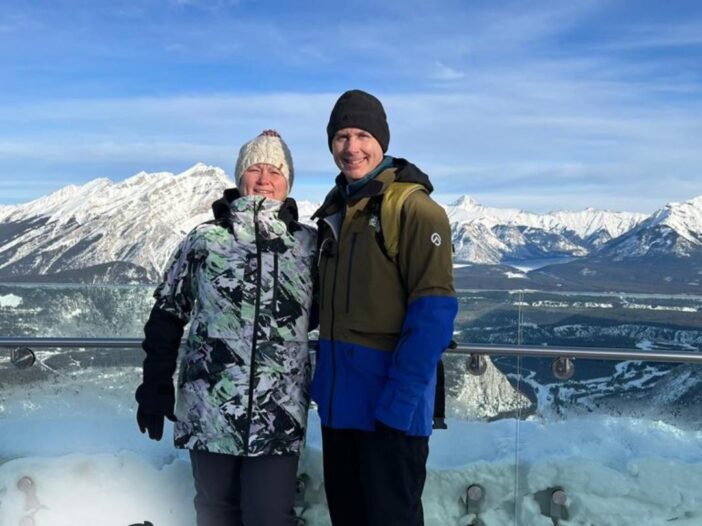 If you're retired, many of your family and friends who are still working probably think retirement is just one long holiday. Many retirees can certainly enjoy doing what they want, when they want, but how about where they want? After all, holidays are as much about a change from routine and the same four walls for retirees as for non-retired people.
This week, I'm high up in the mountains in Banff and Lake Louise, Canada, enjoying one of my favourite hobbies, skiing. Skiing is a terrific excuse for spending hours outside in the most dramatic of scenery, with little between you and the International Space Station but a few clouds and an ozone layer. I can soak in the sheer scale and majesty of it all, before choosing the speed at which I rejoin humanity on the slopes on the way down!
A fresh perspective
By their very nature, mountains lift you above your 'normal' life, and give you a great feeling of space. I find that very liberating, as well as more than a little humbling. It helps, quite literally put things into perspective.
So, when I return to the chalet or hotel and check the emails on my trusty iPad, I try and keep that sense of perspective. I can reflect on a successful day on the slopes whilst my legs recover, and look forward to a delicious dinner later on. In the meantime, if I choose to work, that's fine.
This approach allows me to both work AND holiday. It's a fine balance which I don't always get right (as my wife, Hazel will tell you). Some can go a step further and go on extended travels whilst working. That approach takes a lot of planning and a job that is suitable (and assumes you don't offer in-person, 1 to 1 contact with clients, which I do.)
Just as with full-time employment, a rewarding and purposeful retirement is also about achieving a work/life balance. The only difference is that "work" is the 'fixed' part of your retirement routine. It's the volunteering, the grandchildren care, the DIY list, the golf lessons, the committee meetings, the club nights. All of which bring you back home afterwards to your own four walls, and sometimes, you need a holiday from them too.
Take a break from the routine of retirement
So, if you feel "in a rut" in retirement, take a break. Swap a 'work' day for an unexpected day out. Book a short holiday when you wouldn't normally go. Plan a special holiday for when the final grandchild starts school (!). Check that your retirement is in balance for you and your partner, and they are not feeling left out or left behind.
Talking of which, my iPad battery is running low, so this is a good time to shut down and head out for dinner. Time to tip the balance back to holiday mode!
Need some help with balancing your retirement?
Contact me for details on my 1 to 1 retirement coaching, helping you start your journey towards a more purposeful retirement.