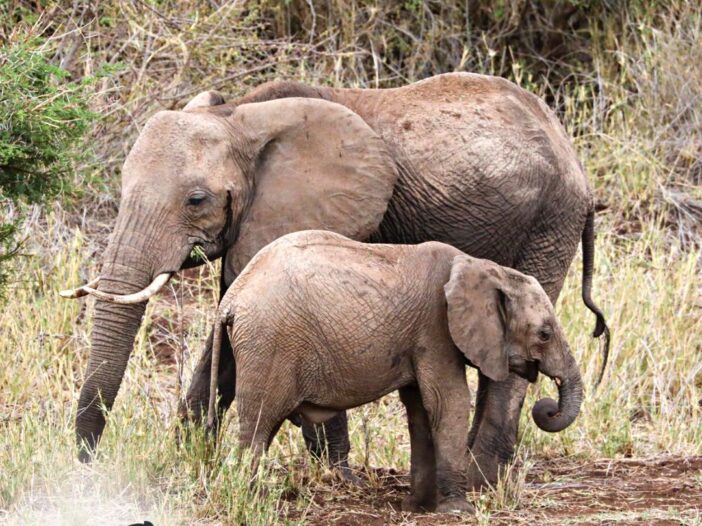 It's not every day you sit writing a blog and look up to see an elephant wandering past.
Then again, I'm writing this blog on safari in Kenya. (So if it was a polar bear, I'd be really worried!)
I'm not saying this to impress you, but because this is a holiday my wife Hazel and I have been looking forward to for many years. We've been planning the finer points for months, putting aside money to pay for it, and buying all the necessary "stuff" from mosquito repellent to a natty pair of new safari shorts.
We've prepared and planned so we can spend time doing what we love, which in my case is wildlife photography. (Hence the elephant-induced excitement.)
However, there's also been the other planning, to ensure my clients are all looked after, and my business carries on while I'm busy following lions (and hopefully not the other way around). I must admit, despite loving my job as passionately as I do, that kind of planning doesn't quite have the excitement of deciding what lenses to take to zoom in on a zebra.
Many people look forward to retirement as one long holiday. At last they can take off the work clothes, pop on their shorts, and jet off around the world to places they've dreamed of seeing for decades. They have finally escaped work, and the world is their oyster. It's all fun and excitement from here on in.
Only, it usually isn't. Eventually most holidays come to an end. You return home to see family, friends, and catch up with "normal" retired life again. That's part of the whole holiday experience.
If your retirement is all holiday, then that's just living out of a suitcase instead of your home in Havant (or wherever.) Holidays are special precisely because they don't happen every day.
A few years back, one of our team won a cruise in a radio competition, ten days sailing down the Amazon river from Manaus to Barbados. Every day, they woke to new sights, new sounds, new smells. They couldn't wait to get off the ship and into the fascinating ports that line this awesome river. They met the natives, fished for piranha (carefully), and soaked up the atmosphere of local markets.
However, a surprising number of fit and able older passengers stayed on the ship. They didn't care much for jungle or scruffy towns or seeing (let alone eating) something new. They wanted to sit on their chair on their part of the deck, ready for lunch at 12noon and to be first in the queue for the 4pm high tea.
What's more, they all knew each other. They literally cruise-hopped throughout the year. As they finally disembarked and paid their bar bills and fretted over how much to tip the cabin cleaners, they waved goodbye to people they would see in 2 weeks' time on the next cruise.
In other words, they were not on holiday. They were living on a ship. All that really changed day to day was the scenery – and they didn't look at that much either. And they were, for the most part, a miserly, moaning and miserable bunch. (They practically excommunicated our team member when they discovered she had beaten even their AMAZING deal since she had paid precisely zero.)
Like holidays, retirement is what you make it, and it all starts with planning both the fun stuff and the day to day "ordinary" stuff. If you don't have a plan other than just living, then even the most wonderful lifestyle becomes just a routine of deck chairs and cakes.
That's why I help my clients with retirement planning that focusses on living a retirement with purpose, not just filling your days. It's not about having vast pension pots or impressive investment portfolios. It's about finding your number, the amount you need to live the retirement lifestyle you want without running out of money or (worse) enthusiasm. It also means not putting things off if you know you can do them now.
If that sounds like the kind of retirement planning you'd like to do, get in touch. I'll be happy to discuss your current situation and help you make your own remarkable retirement plan through tailored 1 to 1 coaching. Send me a message and I'll get back to you very soon.
Meanwhile, if you'll excuse me, there's a baboon eyeing up my camera bag…..