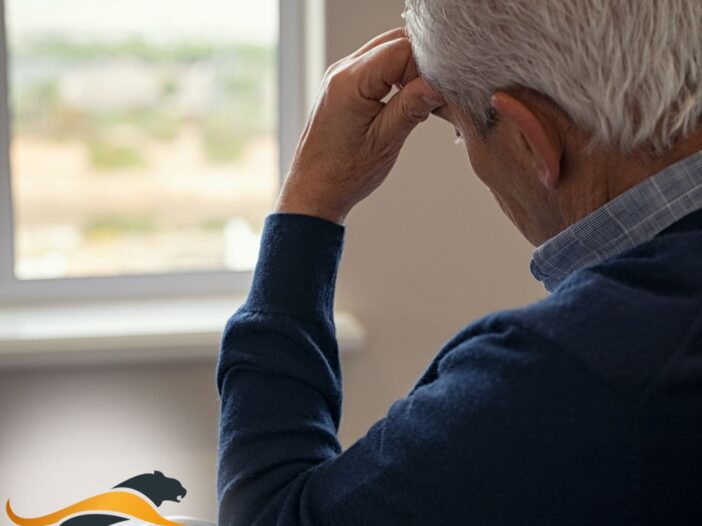 At this time of year when the nights draw in and the weather seems to be continually wet, wet, wet, we can all become more prone to feeling low. However, amongst those struggling to adjust to their retirement, this can also tip into depression.
A 2022 study in the US found that:
"Among older adults, retirees are more likely to experience depression compared to those who are still working. This elevated risk reflects intertwining processes in social, biological, and psychological aspects of health, as well as barriers to accessing mental health care.

Retirement often involves major changes in social roles and social networks, as well as changes to tangible assets like income and health insurance, which all impact risk and management of depression."
The Mental Health Foundation says that depression affects around:
– 22% of men aged 65 years and over

– 28% of women aged 65 years and over

and yet

– 85% of older people with depression receive no help at all from the NHS.
Sadness and getting older
The good news is that "Sadness is not a natural quality we should accept as we get older", according to The Wisdom Program at Loma Linda University Behavioral Health.
In an article, clinical therapist Olga Tapia identified a loss of routine as one of the main causes of sadness and depression in retirement:
"We look forward to retirement because we will finally get to relax and enjoy life. But people who have lived in a routine for 20 to 30 plus years have a difficult time transitioning into a space where there is no structured routine. They retire and realize they didn't create a plan for themselves outside of work."
(That's obviously something I can help with – retirement planning – so if you're struggling, Call me or Email me now for your initial no-obligation discussion. Or read on!)
Your retirement routine
If you have a retirement routine, it needs to be flexible enough to take into account both expected changes (the seasons, school terms for grandkids) and unexpected changes too, such as a bout of illness, or a family situation.
For example, one of my retired couple clients recently had to say an unexpected goodbye to their much-loved dog. Apart from the grief over losing a family member (which in my opinion, all pets are), they also had a major disruption to their routine – the need to take the dog for a morning walk.
They decided to carry on doing a "dog walk" as they realised the walk was more than just for the dog's benefit. It was (and is) daily exercise, a social event as they talked to fellow dog owners they had known for years, and also a reason to get up and get going out of the house every morning.
As they say, the dog was woven into the fabric of their own routine. For example, it took over a month for the husband to realise he didn't need to stand outside a shop whilst his wife went inside – he'd always been holding the dog before! So, whilst some elements of the routine need to be preserved and continued, others fade and are replaced with new ways of doing things.
Inside outside
If you've always commuted to work, one of the great joys of being retired is being able to see the sun during the winter in the open air, not through a car, van, train and/or office window!
However, if you find yourself getting considerably more miserable after the clocks go back in October and that feeling fading in the spring, one of the reasons may be SAD, or seasonal affective disorder.
SAD is a type of depression, the onset of "winter blues" brought on by lack of exposure to sunshine.
"Researchers believe SAD occurs as a result of less exposure to sunlight, disrupting your biological clock and triggering changes in levels of serotonin, a chemical that you need to feel content and happy."
Symptoms include lower energy levels, lack of will to socialise, wanting to stay in bed a lot more, putting on weight due to overeating, and more. It's also hard if not impossible to just "shake off".
"People with SAD can't simply 'cheer themselves up' with a nice cup of tea and a couple of biscuits, or even a more elaborate treat . As with people who have year-round depression, SAD can't be shaken off or fixed quickly and easily in this way."
Step out into the sun
Taking exercise in whatever sunshine is available is one of the best ways to combat SAD. In my personal experience, the more sky you can see, the better you will feel. So, if you normally walk in woods or in cities, swap that for a stroll in open fields or a park, on a hilltop, or along an open expanse of beach.
If you can expose some skin to the sun on warmer days, you'll also help boost your vitamin D levels naturally, although our bodies can't make sufficient vitamin D in winter from sunlight alone as it can during the summer months.
Another great way to get some vitamin D this time of year is to jet away to more tropical climate for a boost. Many of my clients build a winter sun holiday into their holiday plans just to get away from the dreary UK weather.
Need help navigating through retirement?
If you feel lost and all at sea in your retirement, do contact me. I'll work with you 1 to 1 (or with your partner too) and make a plan to turn retirement from just drifting to a genuine, sustainable voyage of adventure or a pleasure cruise tailored to your liking!